When sending emails from Prezentor, you will need to connect to a server that provides this email service. We have our own (Sendgrid) which is what the default option will be if you do not edit your 'Email Settings' in the App under 'Settings'.
However, you may find it beneficial to connect to a different server.

There are three different servers you can send emails through when emailing from Prezentor.

If you have an Outlook account, we recommend using Microsoft. If not, you can also use SMTP.
The benefits of one of these methods is that you will both make your emails sent from Prezentor to appear as if they are being sent from your usual work mail, as well as decreasing the chance of your emails bouncing, or ending up in spam.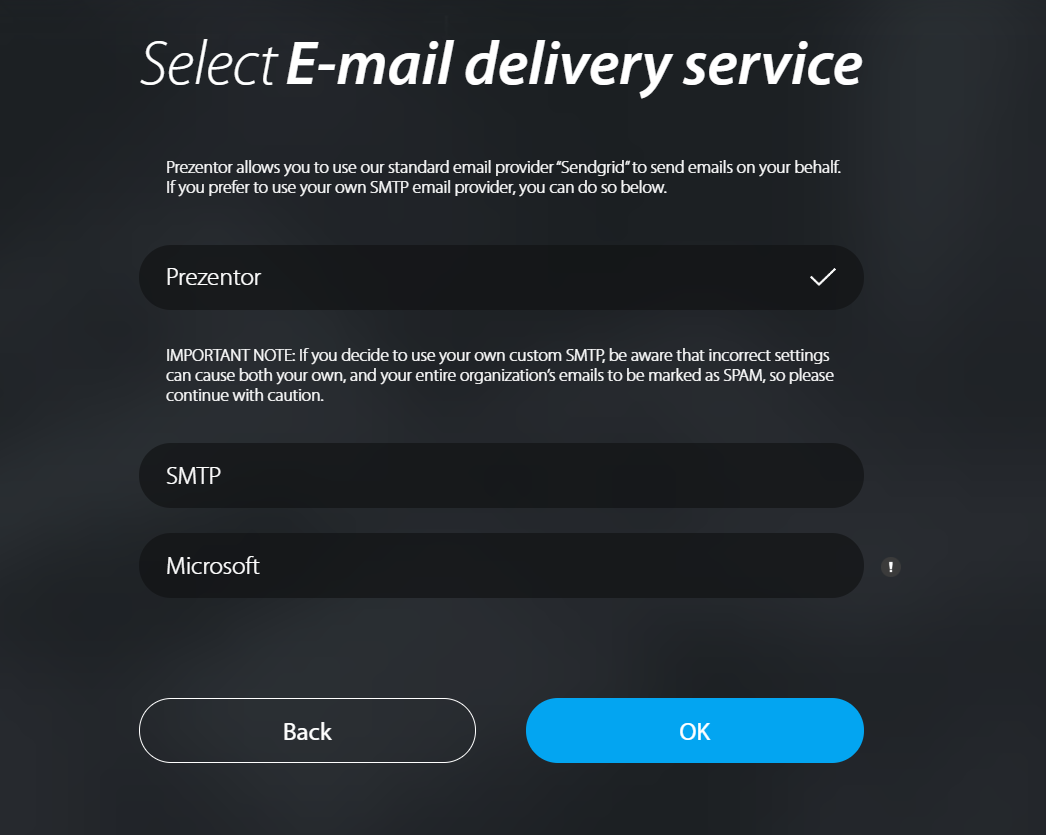 We therefore recommend you explore which server you would like to use.
The options are as follows:


1. Sendgrid - Prezentor's default e-mail server
Prezentor uses an e-mail server called Sendgrid to send and track e-mails. When you send an e-mail from Prezentor it goes directly to the recipient.
- Pro: You get full tracking of the e-mail and can easily check the status (delivered, opened, clicked etc.).
- Con: There is a small extra risk (approximately 2-3%) of the e-mail ending up in the recipient's spam folder and your sent emails will appear as coming from "reply@prezentor.com"
2. Use own SMTP server
With this setting the e-mail is sent from Prezentor (Sendgrid) to your own SMTP server, and from there to the recipient.
- Pro: The e-mail is sent via your own server and the recipient receives the e-mail from 'your Company'. If you do not activate SMTP, then the email your clients will receive will be from "reply@prezentor.com". By activating SMTP you will also be able to see any sent emails in your regular email provider "sent mails" folder (for example in Outlook or Gmail), even though you have sent the emails through Prezentor.
- Con: As the e-mail is sent from Prezentor (Sendgrid) to your server and then to the recipient, the tracking stops when it reaches your server. The sender will therefore first see the e-mail as being sent and then opened or clicked if applicable. When the recipient clicks on items in the e-mail (e.g. a presentation or a file) the connection and the tracking is re-opened to Prezentor and the sender will get the statistics on what the recipient looked at.