Now that you have created your training layer, how do you make sure that it is only available to sellers and not visible to your customers when showing or sending them a presentation?
There can be a few different ways. The easiest one, is to create a 'private' slide, by marking it as internal only. (Read more about slides management here)

This slide will only be visible to sellers. You can now add a button on this slide and, using the configurator, set a rule by which, if this button is checked, training icons will be visible on other slides, that reps can click to access training material.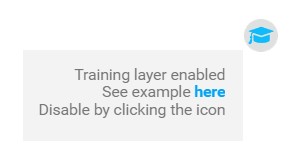 Contact us at support@prezentor.com if you need help setting this up.