1. Log in to the Prezentor backend.
2. Go to 'Users' in the top bar.

3. Click on 'Add new user'.

4. Fill out the information and assign the user to a country, department and team.
The user is now assigned to their department. The user can get more rights - to see how, and what rights the user can get, please take a look at 'What is access rights?'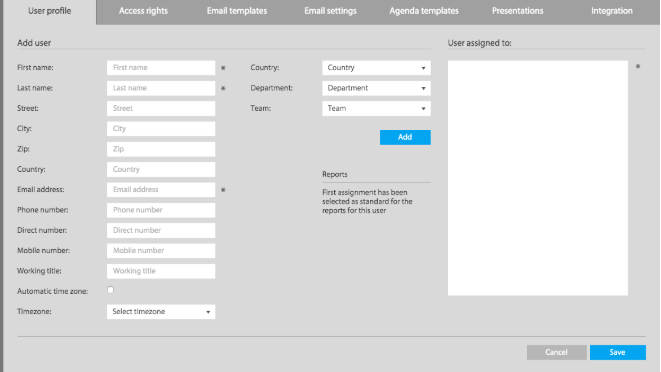 5. Click on 'Save' and the new user can be found under 'Users'.
6. The new user will then receive an email asking them to accept the invitation to become a Prezentor user.
Please note: Created users will be marked as 'Invited' until their account is successfully activated by the link via invitation mail. This user will be unable to log in Prezentor until he activates his account

7. Once they accept this invitation, then will then be prompted to create a private password, after which they can log into Prezentor normally, and their user will appear as "Active" in the User Database.

See also: Why is it important to assign users?
See also: How to assign user access rights